Web Site Design, Web Site Redesign, Web Site Content
There's more to a web site than graphics and flash! Does the site load quickly? Is it friendly to users in the client's target-customer age group and across viewing platforms? Is there content
on the site to support the goals of that site? Does the site answer target customers' questions and propel them to action?
With my marketing background, writing skills, "big-picture" viewpoint and diligence about tackling these questions head-on, I create sites that are found and get results for my clients.
Samples of Web Site Redesign,
Content Re-Write and
SEO by Kristi Borst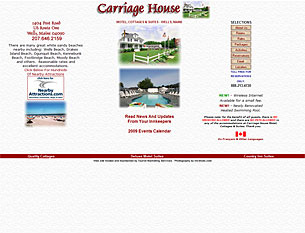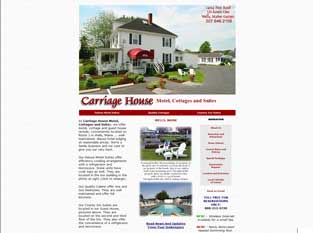 Carriage House Motel, Cottages and Suites
Site Design, Content Editing, much of Photography
Before/After
"Kristi did a site redesign for my motel. Shortly after the new site was launched, I had a short-term special rate to offer. Kristi integrated the special into sections of the site we hadn't considered and ensured that the SEO coding was appropriate. In less than a day, our phones were ringing with people asking for that special offer." Sally S, Wells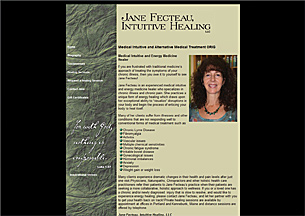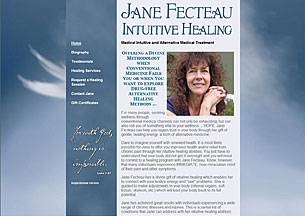 Jane Fecteau, Medical Intuitive
Site Redesign and Site Content Re-Write
Before/After
"No one has been able to put to word or convey in a glance what I the way that Kristi has. Twelve hours after she did SEO work on my site, I had a call for my remote services.
The number of clients coming through my site has increased dramatically." Jane Fecteau
Samples of Web Site Design and Maintenance
work by web designer Kristi Borst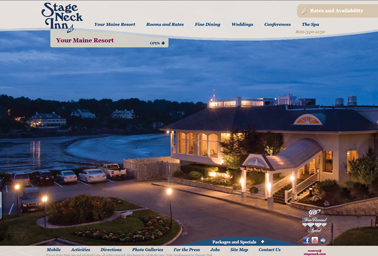 Stage Neck Inn
Site Design, Site content, much of Photography
"We get compliments on our site on a daily basis."
Phoebe Apgar-Pressey, gm
Stage Neck Inn has been my client since 1987. I developed their initial site in 1990. Current web site offers user interactivity an on-line brochure, conference planner's guide and guest room information (adapted from a pocket folder and ring binder, respectively, restaurant menus, display ads, rate card, booking engine, and more.
Part of my job working with Stage Neck Inn includes weekly and sometimes daily updates to the nearly 200 pages of content.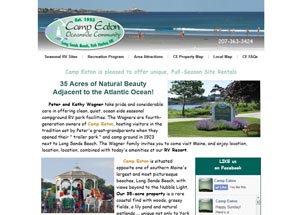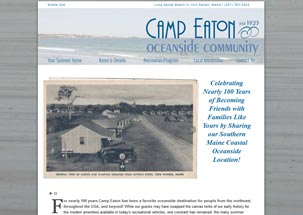 Evolving Marketing Camp Eaton
client since 1992
Over the years, focus of the marketing has gone from getting overnight campers to Camp Eaton to being an image piece for this property which now only offers seasonal rentals.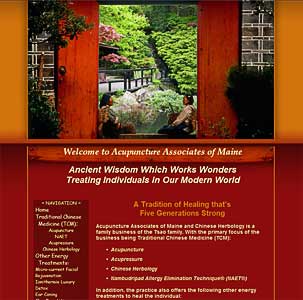 Site Redesign for Acupuncture Associates of Maine
located in York and Yarmouth
"[The site] looks so much better, and is especially more user friendly."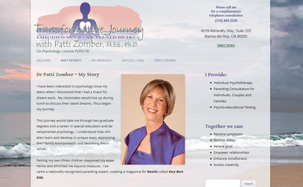 Transformative Journey with Patti Zomber, M.Ed., Ph.D.
Identity Graphics, Web Site, SEO and Search Presence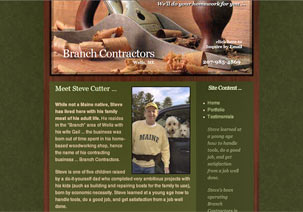 Branch Contractors, Wells, Maine
Identity Graphics, Web Site and Local Search Presence
"I'm extremely happy with my web site.
It's exceeded my expectations." Steve Cutter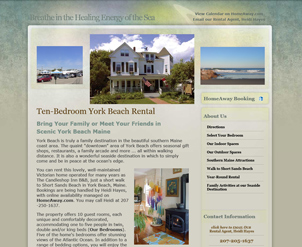 Candleshop Inn
Pretty much all of the photography in this site
is mine. Worked with the site for about 9 years
and helped the owner transition it from a bed and breakfast
site to one for weekly rentals as she shifted to retirement.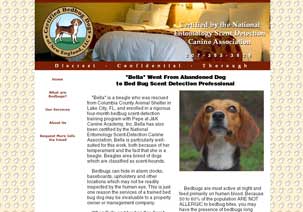 Certified Bedbug Dogs of New England, LLC
Identity Graphics, Site Design, Content and SEO
resulted in this small firm being purchased by it's largest area competitor
within the first few months of operation.